Cheney Clamps
By Richard Maury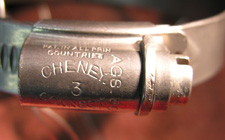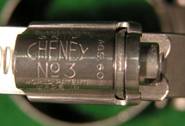 The Cheney clamps come in a variety of sizes and are being reproduced. It seems that the stamping on the reproduction clamps is off of a smaller one and the same stamping is used on all of them. Even with this, the clamps are very nice and brand new. Very few people would notice the difference.
The original Cheney clamps have different numbers depending on the size of the clamp. There are two main styles of Cheney clamps also, one has the "Cheney" straight on the bottom and the top is curved. The other style has the whole word curved.
All of the Cheney clamps have a round slotted screwdriver head. I have seen some with the slight bevel on the slot edge and others with a crisp edge. All of these clamps have a solid band where it contacts the hose unlike some of the perforated clamps currently available. The clamps are made out of regular steel unlike stainless as used widely today. The biggest problem with this is that the clamp will stretch when it is heat cycled and must be re-tightened to stop coolant leaking.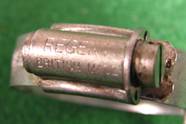 Regent is another clamp that was used and is acceptable for show purposes on the E-Type.  They also have a slotted head which is also round. The backup plate behind the screw head has a different design than the Cheneys. These clamps were also out of regular steel.
It is getting harder to find original clamps and the ones found usually need to be stipped and zinc or cadmium plated for the show circuit.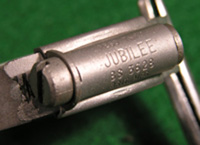 During the production run of the E-Type, Cheney and regent clamps were used. There has been controversy over the years as a lot of people will argue that Jubilee clamps were also proper. The early Jubilee clamps were round headed like the Cheney and Jubilee clamps so most likely this is where the confusion comes from.
I am not sure which years the round headed Jubilee clamps were supplied but as you can see from the picture, they do exist. The later hex headed Jubilee is the more common and currently available new. It is a very nice clamp but that still does not make it proper for the E-Type according to the current JCNA (Jaguar Club of North America) judging guide.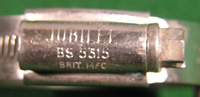 Another clamp that I recently discovered is the one to the lower right. It came off of a 1968 E-Type that I have been taking care of for over 25 years and is an original owner car. This particular clamp was on the power steering low pressure hose and appeared not to have ever been taken off and replaced. It is a "Terrys Security". Of particular note is that the BS number and size are the same as on the Cheney and Jubilee clamps of that size range.